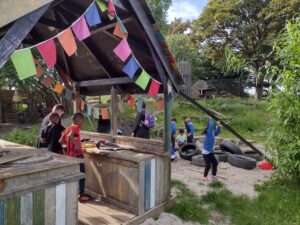 We offer free fully outdoor play sessions for children and young people of all ages! Our natural play area at the Back Garden can accommodate a wide range of activities including free play, outdoor cookery, gardening, parkour, arts and crafts, woodwork, sports, den building, workshops, and much more! We also offer daytrips during Easter, summer and October school holidays. These activities and our space empower young people to enjoy the natural environment, learn to take risks, gain confidence, and develop friendships and community. As a result, young people experience an improvement in all aspects of development – physical, cognitive, social and emotional.
We are big advocates of free play in the Back Garden. Free play is an unstructured, voluntary, child-initiated activity that allows young people to develop their imaginations while exploring and experiencing the world around them. It is the spontaneous play that comes naturally from their curiosity, love of discovery, and enthusiasm.
We care about creating an environment in the Back Garden where everyone feels welcomed, included and respected. We promote ideas of diversity and equality within our play sessions and ask that all young people respect communal rules of the space to make sure that everyone feels safe, supported and heard and gets the most out of their play with us.
We usually play every week on Monday, Tuesday and Thursday (during term time):
After school:
15.30 – 17.00
17.30 – 19.00
During school holidays (Thursdays are often trips which must be booked with us, these timings may be subject to change):
11.00 – 12.30
13.00 – 14.30
Play with us is always free and all young people are welcome to join. Young people must be able to arrive and leave independently as we may have to stop a session and all young people must be able to walk home on their own. Children under 5 must be accompanied by an adult at all times.
To play with us we need a parent or carer to complete a quick, online registration form here.
For more information contact: playdelivery@concretegarden.org.uk / 0775 208 0042.
The Back Garden is Behind Possilpark Health Centre, corner of Carbeth and Killearn Streets.
Have a look at what we're up to on our Instagram!
To book a place or to hear more, please contact our Play Delivery Manager Maura on the above email or mobile number.