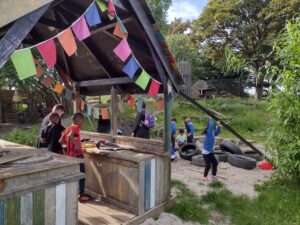 Our natural play space at the Back Garden hosts a program of activities including: free play, outdoor cookery, gardening, parkour, arts and crafts, woodwork, sports, den building, workshops, trips and much more! These activities and our space empowers young people to enjoy the natural environment, learn to take risks, gain confidence, and develop friendships and community. In doing so, young people improve all aspects of development – physical, cognitive, social and emotional.
Free play is unstructured, voluntary, child-initiated activity that allows young people to develop their imaginations while exploring and experiencing the world around them. It is the spontaneous play that comes naturally from their natural curiosity, love of discovery, and enthusiasm.
We usually play every week on Monday, Tuesday and Thursday:
After school:
15.30 – 17.00
17.30 – 19.00
In the holidays (Thursdays are often trips which must be booked with us):
11.00 – 12.30
13.00 – 14.30
Play with us is always free and all young people are welcome to join. Young people must be able to arrive and leave independently, we may have to stop a session and all young people must be able to walk home on their own. Children under 5 must be accompanied by an adult at all times.
To play with us we need a parent or carer to complete a quick, online registration form here. 
For more information contact: playdelivery@concretegarden.org.uk 07752080042
The Back Garden is Behind Possilpark Health Centre, Corner of Carbeth and Killearn Streets.
Have a look at what we're up to on our instagram!
To book a place or to hear more please contact the above email/ mobile number.