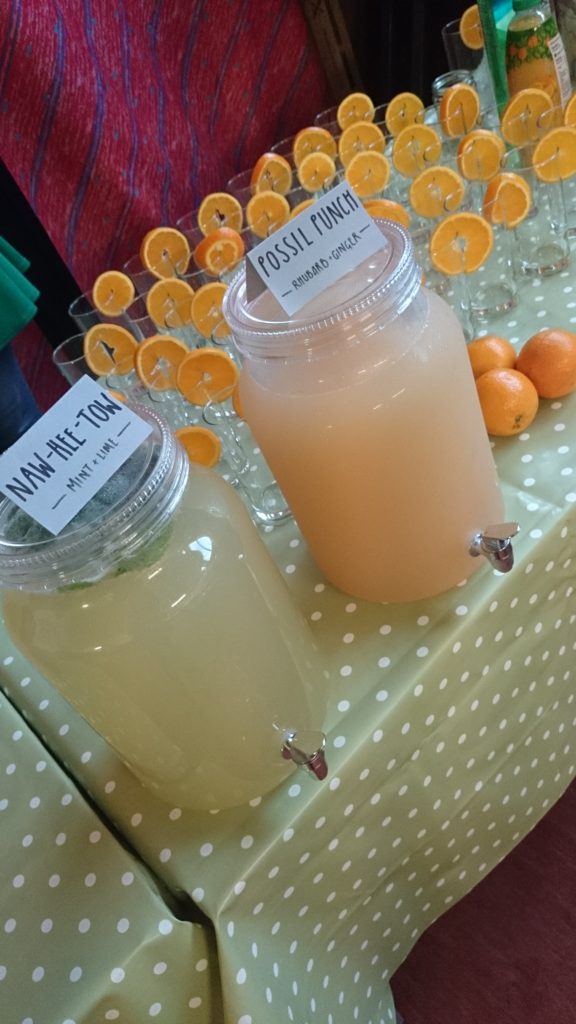 Our talented staff at Concrete Garden recently tried their hand as mixologists and created two delicious non-alcoholic cocktails for a recent event we held. They went down so well that we thought we'd share the recipes so you can make them at home if you're entertaining! Let us know what you think…
Possil Punch  |  rhubarb & ginger
First, make the rhubarb syrup:
For this, you will need…
• 2 cups sliced rhubarb
• 1 cup sugar
• 1 cup water
• 1-inch section fresh ginger, smashed
• 2 tablespoons zest from 1 orange
• 3 allspice berries
Combine rhubarb, water, sugar, ginger, orange zest and allspice in a small saucepan. Heat over high heat until boiling, stirring to dissolve sugar. Reduce to a simmer and continue to cook until rhubarb breaks down, about 20 minutes. Remove from heat and let cool. Strain through a fine mesh strainer, pressing with a rubber spatula to extract as much flavour as possible, reserving cooked rhubarb for another use if desired. Boil the syrup a little more. Rhubarb syrup will keep for two weeks in a sealed container in the refrigerator.
To make the mocktail…
You will need…
• 3-4 tablespoons rhubarb syrup
• 1/4 cup juice from 2 to 3 limes, strained
• 6 cups (48 ounces) spicy ginger beer, such as Bruce Cost
• 1 lime, cut into 6 wedges for garnish (optional)
Stir rhubarb syrup and lime juice together in a large pitcher. Fill pitcher halfway with ice and add ginger beer. Stir gently to mix and serve, garnishing glasses with a lime wedge, if desired.
Naw-hee-tow
(This recipe makes 2 drinks – multiply for however much you need if having a party)
You will need…
• 1 tbsp sugar
• small bunch mint
• juice of 3 limes
• soda water
(we used homemade mint cordial instead of fresh mint in each glass)
Instructions
Muddle the sugar with leaves from the mint using a pestle and mortar (or use a small bowl and the end of a rolling pin). Put a handful of crushed ice into 2 tall glasses. Divide the lime juice between the glasses with the mint mix. Add a straw and top up with soda water.
These are recipes we found online and altered so we didn't follow them exactly – try it as you go and alter it to suit your tastes.
Enjoy!