Vegan Bread and Butter Pudding
For those of you who are trying out Veganuary and craving some comfort food in these cold months, we have a great dairy free winter warmer that uses up any stale bread you have knocking around! It's super easy with only an hour long cooking time…
Ingredients
100 g dairy-free margarine , (suitable for baking)
1 large pinch of ground cinnamon
1 large pinch of ground ginger
zest of 1 orange
10 thick slices of quality stale bread
200 g of dried fruit such as apricots, sultanas, dates or a combination!
5 tablespoons quality thick-cut marmalade (optional)
For the Custard:
1 vanilla pod
800 ml soya milk , unsweetened
5 tablespoons cornflour
6 tablespoons golden caster sugar
Method
Preheat the oven to 180ºC/350ºF/gas 4. Combine the margarine, cinnamon, ginger and orange zest in a bowl. Use a small amount to grease a medium ovenproof dish (roughly 20cm x 25cm), then spread the remaining margarine onto the bread.
Halve the bread slices diagonally, then place roughly a third into the dish in a single layer. Roughly chop the apricots, then scatter a third into the dish along with a third of the sultanas. Cover with another layer of bread, scatter with more dried fruit, then cover with the remaining bread. Set aside, reserving the remaining dried fruit for later.
To make the custard, halve the vanilla pod lengthways and scrape out the seeds. Add the seeds to a medium pan with the remaining custard ingredients and 400ml of water. Whisk well until smooth and combined, then place over a medium–low heat. Simmer gently for 6 to 8 minutes, or until the custard is almost boiling and coats the back of a wooden spoon, whisking continuously.
Pour the custard over the bread then scatter the remaining dried fruit on top. Leave to soak for around 20 minutes, then place in the hot oven for 25 to 35 minutes, or until lightly golden and starting to set.
Meanwhile, gently warm the marmalade in a pan over a low heat. Once the pudding is ready, brush over the warm marmalade, then return to the oven for a further 5 minutes, or until golden and sticky. Allow to cool slightly, then tuck in. This stage is optional and not necessary. You can replace it with a sprinkle of brown caster sugar instead.
Here's one we made earlier using leftover stale sourdough bread from one of our events, dates and a brown sugar topping instead of the marmalade…..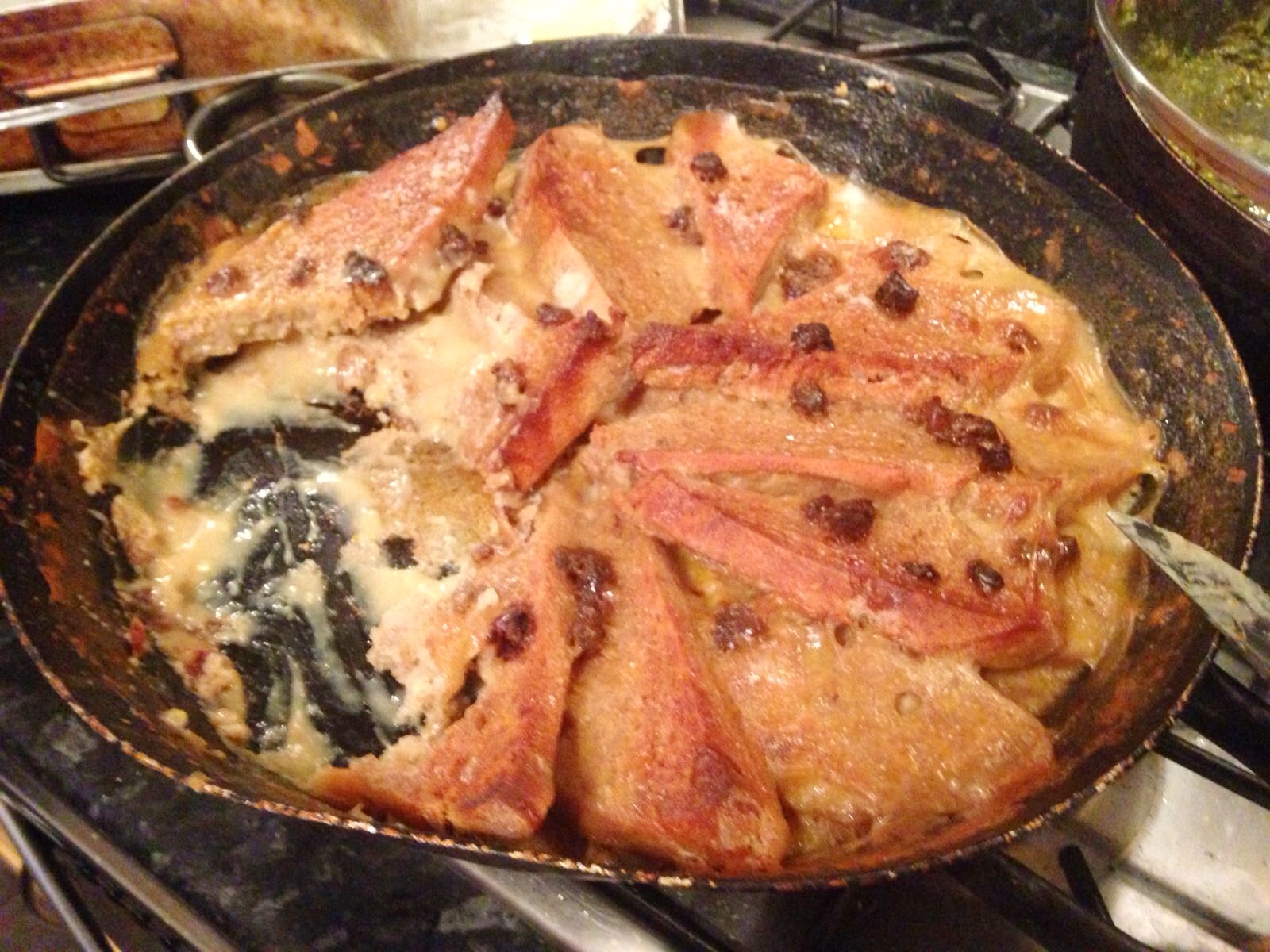 Recipe Source: Jamie Oliver's Vegan Bread and Butter Pudding
Eating less animal products is great for the environment as well as your

nosubhealth.com

health. 51% of Greenhouse Gas emissions are created by animal agriculture compared to 13% of all the world's transportation. 29% of the world's fresh water is used for animal agriculture and 91% of the Amazon's destruction has also been due to animal agriculture. Find out more on the Veganuary website.
#ThePledgeScotland              #Veganuary